Dove Song Dairy sells quality PA state certified raw goat's milk in gallons, half gallons, quarts and pints.
It's Raw – Our milk goes from our goats to a refrigerated milk tank to our sanitary single use containers. There's nothing added, nothing taken away. No pasteurization to ruin the natural flora, enzymes, vitamins and minerals. You get milk just as it should be; fresh, sweet, wholesome and natural.
Raised on Pasture – Our herd of Alpine, Nubian and Lamancha goats have access to over five acres of lush pasture. In the winter they love to play outside in the sunshine and on warm nights they prefer to sleep out under the stars. The only time we close the barn doors is when the cold north wind blows at night.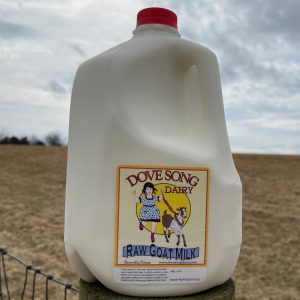 PA State Certified – No "bootleg" milk here! Dove Song Dairy is certified by the Pennsylvania Department of Agriculture's Milk Sanitation Board to legally produce and sell raw goat milk and make our artisan cheeses. Our milk is tested to insure the highest quality. It takes a lot of hard work to have a raw milk permit, but knowing we're producing a clean, safe and wholesome food for our family and yours makes it all worthwhile.
No Corn, Soy, Wheat or GMO's – Are you worried about genetically modified organisms or high estrogen levels in soy? Are you allergic to corn, soy, or wheat? You can relax with our milk. We don't feed any corn, soybeans, or wheat to any of our animals. Instead we feed them sunflower seeds, oats, barley and hay harvested from our own fields.
No Added Hormones – Some farms rely on the use of synthetic hormones to increase production or growth of livestock. Not here! We rely on great nutrition, fresh air, sunshine and exercise.
No Antibiotics – You never have to worry about antibiotic residue in our milk! Our family doesn't use antibiotics and neither do our goats.
To purchase our milk, visit our Places to Purchase page.