Our Milk | We believe that a great cheese starts with great milk. Our goats have access to pasture every day. They never receive antibiotics, hormones, corn, soy, wheat, silage or animal bi-products. We farm sustainably without using any chemical fertilizers, pesticides or herbicides.
Farmstead | Our cheeses are made on our farm, by us, with milk from our goats. We never use milk from other farms.
Artisan | We make our cheeses by hand in small batches so the end product is pure perfection.
Fresh | Our cheese is always made with fresh milk and doesn't contain any preservatives. We use organic ingredients or produce grown right here on the farm.

Fresh Goat Cheeses (Chevre)
available in 4oz. and 8oz.
Our fresh pasturized cheeses are soft and creamy.  They're perfect for spreading, dipping, topping salads and soups, or stirred in pasta, rice, and mashed potatoes.
Ask about our flavor of the month!  Some favorites include Bee My Honey, Fairy Goatmother, and Bonfire!
Classic
Plain, lightly salted.
Jump, Chive & Wail
with garlic and chives
Spinny Dipper
with spinach and artichoke
Fig-A-licious
with black mission figs, local wildflower honey and a hint of nutmeg
Everything But The Bagel
with toasted onion, sesame seeds, poppy seeds and more
Scarborough Faire 
with parsley, sage, rosemary and thyme

Aged Goat Milk Cheeses
available in handcut wedges of varying sizes.
Our aged cheeses are raw, aged a minimum of 60 days and are only made with fresh milk from our goats. Since we make the cheese ourselves in small batches we may have limited availability at times. You may notice slight variations in flavor throughout the year depending on the type of pasture the goats are on and butterfat content of the milk.

Salty Seagull
This is a brisk salty Feta aged in a traditional sea salt brine. This melt in your mouth cheese can be sliced or crumbled to be the perfect addition to soups and salads.

Snow Goose
A semi-hard cheese with a light salty taste similar to Cheddar. Our mildest aged cheese is great for snacking or melting. It's ideal for grilled cheese sandwiches and pizza. If you're new to goat cheese give this one a try.

Kingfisher
This cheese is creamy with light fruity undertones similar to Swiss. Aged over 12 months yielding a more complex cheese with extra depth of flavor. Pair it with fruit for an after dinner treat.

Jack Robin
This firm Monterey Jack style cheese is earthy, nutty and slightly salty. Versatile and mild with a classic cheese flavor, it toasts beautifully and pairs well with dried fruits and nuts for an instant cheese tray.

Hot Chickadee
Our pepper jack style cheese is lovely to look at and to eat, studded with jalapeno and chili peppers. It's gentle heat is a crowd pleaser. Try it on your next cheeseburger!

Smokin' Hot Chickadee
This little Chickadee has been wood smoked with hickory from our farm and rubbed in organic chipotle to add another layer of heat. Top a BLT or pork sandwich for a burst of flavor.

Whipper-Dill
A semi-soft herbaceous cheese with garlic and dill throughout. It's great for melting, try it on a lamb burger or quiche!

Drunken Sparrow
This unforgettable cheese, with it's deeply fruity aroma, is soaked in our homemade elderberry wine giving it an intense flavor and deep purple edible rind. It's sublime with dark chocolate and nuts.

Old Crow
This cheese has toasted organic cracked black peppercorns inside and out for a for a spicy note with a lingering nuttiness. It's lovely with cured meats and olives.

Night Hawk
This cave ripened cheese is aged to perfection resulting in a sweetly earthy, sharp dry cheese with a nutty undertone and crystalline crumble. The edible rind is hand rubbed with local wildflower honey and Spanish smoked paprika. It can be simply savored with fruit and wine.

Chimney Swift
This tasty cheese has been smoked with hickory wood grown here on our farm. It's excellent for melting. Use it to top your next mac and cheese for an unexpected smoky twist!
Barn Owl
A Jack style cheese laced with cocoa nibs and hand rubbed with organic coffee to lend an earthy aroma. Savor it with figs or melt over a roast beef sandwich.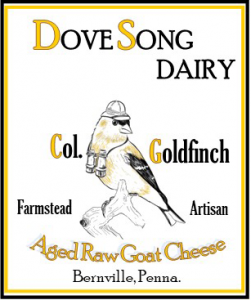 Col. Goldfinch
This cheese is first filled with mustard seeds and then hand rubbed with even more mustard and lovely yellow turmeric for an eye catching edible rind. Try it with salami and dried apricots.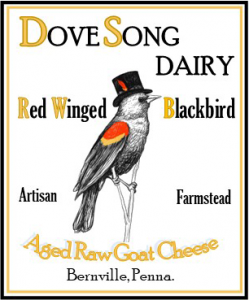 Red Winged Blackbird
This hard cheese is our sharpest. Aged over a year this cheese has a bite. Eat it as is if your feeling adventurous, or try it grated over pasta dishes or eggplant parmesan.
Cave Dweller
A hard cave ripened cheese aged over three years. This limited edition cheese appears only once in a blue moon, so snatch it up while you can!
The state of Pennsylvania requires raw cheeses to be aged a minimum of two months. For that reason all of our fresh cheeses have been pasteurized. Visit our store here at the farm or go to the Places to Purchase page to find out where to buy our cheeses.